The Village of Nassau is located in the Town of Nassau in Rensselaer County of the State of New York. Here is a map for reference.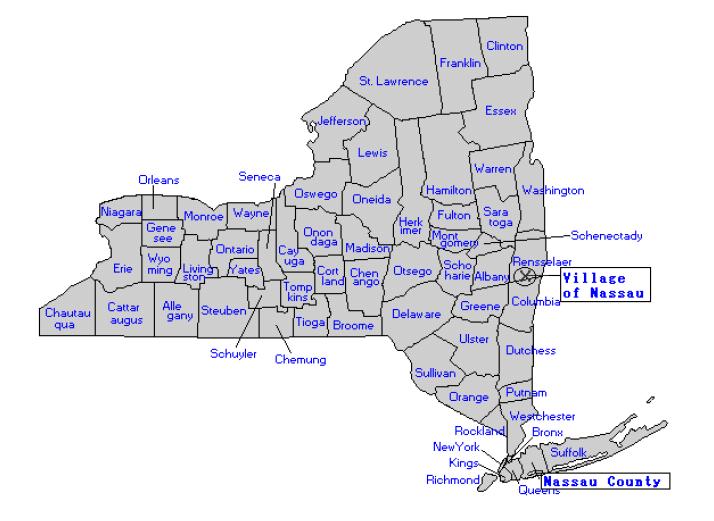 What is the procedure for filing a complaint against an officer?
Complaints against our officers are taken extremely seriously and will be fully investigated. Police Department Complaint Form
Is the Village of Nassau PD Hiring?
Currently, we are not hiring. We will be unable to "sponsor" anyone to the academy this year.
Where is the Village of Nassau Court?
The street address is 40 Malden St Nassau, NY 12123 please go to our map page for directions. Take note that the Town of Nassau Municipal Offices and Court are located in the Village of Nassau on Church Street.
What is the Village of Nassau Court mailing address?
PO Box 452 Nassau, NY 12123
When is the Village of Nassau Court in session?
Court is sessions on most Tuesdays at 6:30 PM, Check the court page for the specific dates. Please park in the front of the building or in front of the pond adjacent to the Municipal building.
What is the phone number to the Village Court?
518-766-3044
I received a traffic ticket, how much are the fines?
Fines are determined only by the Judge.
What are the local laws of the Village of Nassau?
Here is a link to the Village of Nassau Code
Is there a curfew in the Village of Nassau?
Yes, No child under the age of 18 years shall be in or on any streets, parks or public places of the Village of Nassau in the nighttime between the hours of 10:00 p.m. and 6:00 a.m., local time, on Sundays, Mondays, Tuesdays, Wednesdays, Thursdays, Fridays and Saturdays, unless such child is accompanied by his or her parent, guardian or relative or other person over the age of 21 years authorized by a child's parent or guardian to have legal care or control of such child.